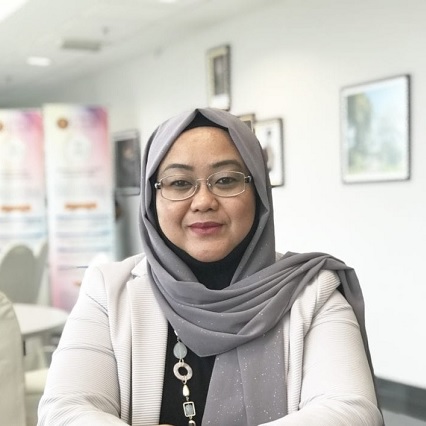 Prof. Dr. Nur Naha Abu Mansor
Dean
Research Leader of Learning and Social Value
Professor of People Development and Business Information Systems
Welcome to the Azman Hashim International Business School, UTM
Dear Students,
This is an exciting time to be at Azman Hashim International Business School. I am extremely proud of the education we deliver, not only in Johor Bahru and Kuala Lumpur and online, but through our numerous corporate partnerships.
We are building the future of business on a firm foundation of excellence, and more than ever, we are making positive change possible. Because while we do award degrees, we're really in the business of creating momentum and energizing our business education delivery.
At Azman Hashim International Business School, we teach an innovative curriculum built on personal development, teamwork and experiential learning with an emphasis on business and management innovation and entrepreneurship. We teach how to turn moments of opportunity into positive chain reactions.
Our method produces leaders that others want to follow. But it's not for everyone. We demand the best of our students, just as we do of our world-class faculty and staff. When you come to this business school, you are expected to work hard, focusing attention on areas for improvement.
Our curriculum also incorporates international experiences. Business truly is global, and we continue to build upon our extensive existing collaborations with international partner schools and global businesses, providing our students opportunities not just for a cultural exchange, but real leadership experience dealing with critical business issues on a worldwide scale.
If you are serious about a top-tier education in a collaborative environment and are ready to find your own momentum, I invite you to learn more about our transformative programs and encourage you to visit our two beautiful campuses.
To all students, enjoy your time here and we wish you all the best in your studies at Azman Hashim International Business School.