In Malaysia, the livestock industry is regarded as a high potential national commodity with a market size of RM3.03 billion a year. However, with an estimated market size of RM33.6 million, the production of stingless bee's honey (madu kelulut) is limited in supporting the market demand. The local production can support only 20% of the market demand and the remaining 80% still heavily relying on the imported honey. With this regard, it is crucial for the country to boost up its capacity in producing madu kelulut, with its associated benefits that comprises of greatest honey quality in the world (contain trehalulose sugar and pollinator), promoting agro-tourism and edu-tourism, and supporting downstream products (e.g. healthcare, medication, and beauty care).
The conventional bee farming approach was constrained with multiple issues including shorter time span of the kelulut breeding boxes, requiring close monitoring and maintenance, risk of predation, susceptible to animal disturbance, lack of standard measurements, as well as resulted in deforestation and damage to the natural ecosystem. With that in mind, the researchers of Universiti Teknologi Malaysia (UTM) have developed an innovative kelulut breeding box, namely Bee Modular UTM, that aims to resolve the industry challenges in bee farming. The Bee Modular UTM is made based on highly safe bio-security standard and specially formulated concrete with a minimum life span of 10 years. Besides, it is friendly to the Internet of Things (IoT), expandable design, allow direct colony monitoring, predator-free, minimum breach rate, fungus-free, and effective in enhancing honey production for more than 3 times.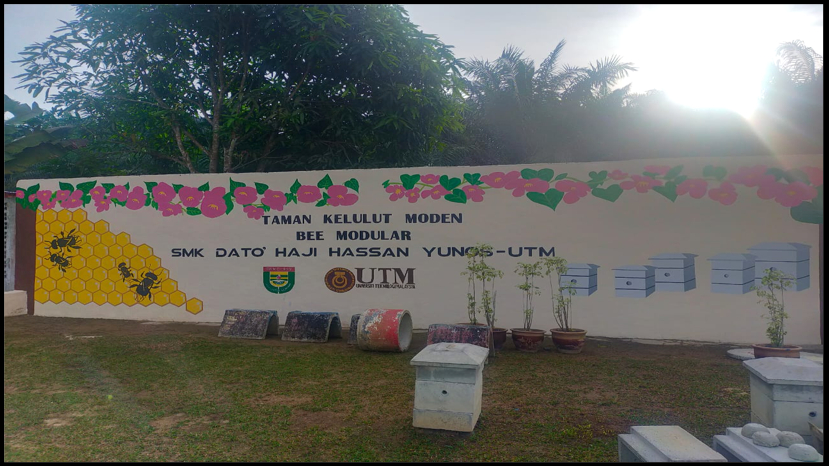 In order to benefit the society at large, UTM had taken a proactive approach in reaching the Bottom- 40 (B40) community through various initiatives. Grounded on the quadruple helix model, Dr. Beni Widarman Yus Kelana had leverage one of the projects, with the corporation of Sekolah Menengah Kebangsaan (SMK) Dato' Haji Hassan Yunos, Renggam Recreation Club, Johor Eco-Business Cooperative Berhad and SIME Darby Plantation. The project titled "Livestock Knowledge and Technology Transfer to National Secondary School Dato Haji Hassan Yunos" had adopted experiential learning and entrepreneurial-related knowledge transfer and numerous benefits had been provided to Persatuan Ibu Bapa Pejabat (PIBG) members.
This project had provided an early-stage exposure to PIBG members, namely teachers and parents, about the various challenges and competitions in today's business world. To be specific, this project served as a platform for the development of creativity and innovation among participants through entrepreneurial activities. In addition, this project nurtures, instils and gives birth to the characteristics of an innovative, digital entrepreneur as well as entrepreneurial culture among PIBG members to generate additional income for the school. In the long term, this project may be extended to students and the local communities.
About the authors:
Dr. Teo Poh Chuin is a senior lecturer at Azman Hashim International Business School. She holds a PhD in management from Universiti Sains Malaysia. She is actively involved in consultation and research projects, publications, and reviewing international journal articles. Her research expertise includes marketing, consumer behaviour, branding, international business and sustainable consumption. For more information about her research and publication, visit https://business.utm.my/poh-chuin-intro/
Dr. Beni Widarman Yus Kelana is a senior lecturer at Azman Hashim International Business School. He holds a PhD in Management from UTM Skudai. He is actively involved in consultation and research projects with community Engagement. His areas of expertise are Human Resource sustainability, Continuing Professional Development (CPD), Action Research, and Social Return on Investment (SROI).
Dr. Mohd Khairuddin Ramliy is a Senior Lecturer at Azman Hashim International Business School. He has M.Sc in IT Entrepreneurship ; PhD of Management (Innovation) from UTM Skudai. He is very passionate about Innovation, Entrepreneurship, Technology Commercialisation, and SMEs Development.