At Azman Hashim International Business School, we believe exposing our students to business simulation competition will help them to improve their education experience and enhance their networking.
Last week, our students have participated in the Monsoonsim Malaysia 2018 competition; a national competition that offers students the opportunity to test their knowledge and skills in Enterprise Resource Planning (ERP) business simulation. In this competition, top seven teams were selected to represent Malaysia in the regional MonsoonSIM competition in Singapore from 21-22 September 2018.
AHIBS was represented by two teams, YTJT and IBYFCUPIPI, contested against other 26 teams from 7 universities in Malaysia namely, UTAR, Monash University, APU, Syuen College, DRB-HICOM University, UUM and Politeknik NIlai. The two teams were coached and supervised by Dr. M.Shah Kassim and En Shafudin Mohd.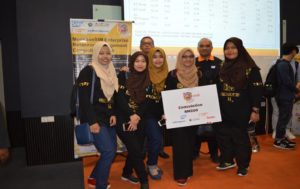 And we are proud to announce that our teams have secured a place to compete in Singapore after completed in sixth and seventh place in the National level!
Congratulations to the students, Dr M Shah Kassim and En Shafudin. Let's all pray for their success in Singapore!
*Story credit to Dr M Shah Kassim