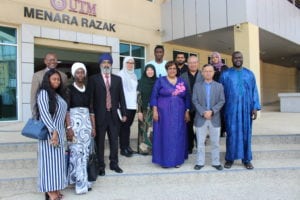 25th September 2018 – The Ambassador of The Gambia in Malaysia, Her Excellency Madam Ramzia Diab Ghanim, visited Azman Hashim IBS today in Kuala Lumpur to deliver a talk on the "Emergence From Dictatorship in Transition to National Development Through Education". Her Excellency shared the different periods of struggles experienced by The Gambia before the country becomes what it is today. Her Excellency, who has a colorful background in the country's political and human rights landscape, inspired the audience with the struggles, opportunities, and hopes that The Gambia faces, many of which are commonly shared by other countries in the African continent. The University of The Gambia, the country's key and rapidly-expanding institution, has been assigned a vital role to transform and sustain the changing mindset, economy and social fabrics in the country.
This event is part of Azman Hashim IBS Global Dialogue series that feature top diplomats and policy makers to talk about high-level debates and discussions on issues of concern. The programme is also a platform for networking opportunities and potential collaborations between IBS, UTM and the countries invited.
Over 30 individuals participated in the event consisted of academicians, students, researchers and staff. The event was also attended by  Professor Dr. Shamsul Sahibuddin, Pro-Vice-Chancellor (UTM KL) and Associate Professor Dr. Abdul Rahman Abdul Rahim, Director of International Office (UTM KL). Special appreciation to our DBA student cum The Gambian ambassador in UTM, Mr. Morro Krubally.
Story: Rossilah Jamil