PULAU PINANG, November 10, 2018 – AHIBS tightens and builds further their collaboration with the AmBank Group under its Business Banking division. This is aligned to the development goals of a new Malaysia, by increasing GDP growth through strategic support of Small and Medium Enterprises (SMEs) with Season 2 of the AmBank BizRACE – a business challenge designed by AmBank Group to enable SMEs to scale and grow with further executive learning experiences and media exposure.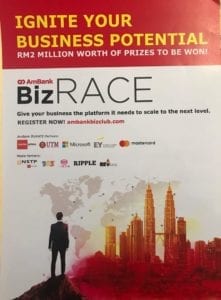 AHIBS participation with other industry partners such as Media Prima, Microsoft, Ernst & Young and MasterCard builds and supports SME winners in their respective stages of the AmBank BizRACE. These winners will stand a chance to gain media exposure for their business, experience Executive Development programs worth RM310,000, a China learning field trip worth RM340,000, a UK-based executive development programme worth RM265,000.
In this event, The Azman Hashim International Business School (AHIBS) awards one of the categories for SME winners with an Executive Education Award worth RM21,000 while Media Prima Marketing Strategy Award worth RM30,000. In addition, the Top 100 finalists will also enjoy a total of RM140,000 worth of development prizes from UTM-AHIBS consisting of a Strategic Talent Management course.
Following the standard BizRACE format, Top 100 applicants will be selected based on their plans for scalability and growth and invited to attend a series of pitching sessions with an experienced panel of judges.
Each pitching session will be audited by Ernst & Young, where the judges will narrow down the winning pool to Top 30, Top 10, and Top 3. This year's AmBank BizRACE official partners and judges include Media Prima, the UTM Azman Hashim International Business School, Microsoft, Ernst & Young and MasterCard. The programme will be further supported by media partners Ripple, TV3, 8TV, NTSP and RevAsia. Interested CEOs of SMEs may register to participate from 10 November until 24 December 2018.
AHIBS leverages on the AmBank partnership by building their co-branding strategies through their BizCONFERENCE series from its first launch, consisting of five FREE nationwide conferences this time to be held in Penang, Kuala Lumpur, Klang, Melaka, and Johor. To begin with, AHIBS hikes on co-branding strategies led by the External and Global Engagement Assistant Dean, Dr. Rosillah Jamil and Dr Haliyana Khalid as social media relations and communication coordinator both work hand in hand to elevate the AHIBS branding strategies with industries in Penang.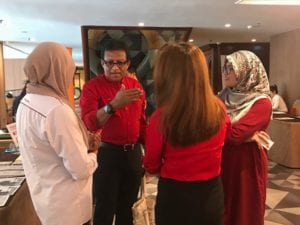 Each event will feature local entrepreneurs from various industries who will share how they have successfully grown their businesses, namely CEO of Thunder Print Group Ch'ng Chuwn Leong, Group COO of Reapfield Properties Jonathan Lee, Caroline Ong from Leaderonomics, Founder of The Center of Applied Data Science, Sharala Axryd, and the Managing Director of Segamat Panel Boards, Peter Fitch amongst others. Three of the BizCONFERENCE sessions will be catered to bilingual Malaysians, enabling a more inclusive learning environment than before.
For more information on AmBank BizRACE and to register for an upcoming event, visit www.ambankbizclub.com.