Health and wellness programs have gained significant importance in today's corporate culture. This is due to the fact that in recent years, the modern organizations recognize the value of promoting employee well-being which is crucial to create positive impact towards the organizational growth and productivity. Physiotherapy and occupational therapy clinics are such health service providers that offer specialized programs to meet employees' physical health needs. Unfortunately, the awareness among the office workers/employers about diagnosing the early health issue is comparatively less in the developing countries. In most cases, individuals seek help from the physiotherapists once they experience an injury which may take few months to years to recover (depending on the seriousness of the injury) and to get back to the normal life. Indeed, an early diagnosis as well as a conscious effort to maintain the postures, and having right ergonomic settings can prevent such injuries.
Importance of Workplace Health and Wellness Programs
Employees with optimal health demonstrate higher degree of work commitment and motivation, therefore improve the productivity. This can be explained by reduced number of absenteeism and sick leave. Organizations often face huge amount of healthcare cost for employee's medical and compensation claims, clinic visits, and hospitalization due to their poor health condition. Employees take medical leave and become absent from work when they fell sick or experience work injury. Musculoskeletal (MSK) problems are found to be one of the common causes for employees' absenteeism. In turn, it may lead to reduced productivity and efficiency of the organization.
Small aches that are left untreated in the early stage can result in expensive claims, lost time and reduced productivity. In such instance, workplace physiotherapy program is a cost-effective investment for organizations which aims to improve wellness of the employees for them to perform better in their role, thus improve work productivity and efficiency. Occupational physiotherapist able to identify problem at early stage and are able to provide early intervention to help employees return to work in a shorter time.
Role of Physiotherapist in Preventive Care and Ergonomic Assessments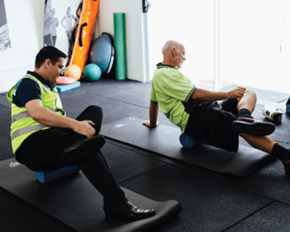 Organizations can arrange annual physical health screening to identify risk factors of workplace-related MSK injuries. This includes, postural screening, gait analysis and functional movement test. Physiotherapist can conduct musculoskeletal assessment involving skeletal and muscular system of the body. This includes a range of motion test, muscle length and strength test and neuro tension test. Most common work-related MSK injuries are back pain, neck pain and repetitive strain injuries which possibly due to improper set up of workstation, prolonged immobility and adapting faulty posture. Therefore, physiotherapist play a crucial role in workplace ergonomic assessment and designs or modify the workstation according to the nature of work to create a safe and comfortable work environment. Taking proactive approaches, encouraging early risk detection and early intervention ensures that mild injuries are well recovered before they develop into a costly burden to employees and employers.
About the author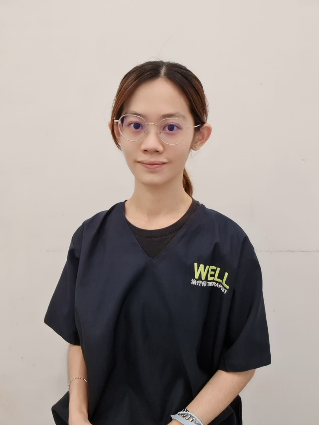 Goh Yee Ling is a physiotherapist at WELL Rehab Physiotherapy Centre, Seri Kembangan, Malaysia. She is aspired to disseminate the health-wellness knowledge among greater population.
About the author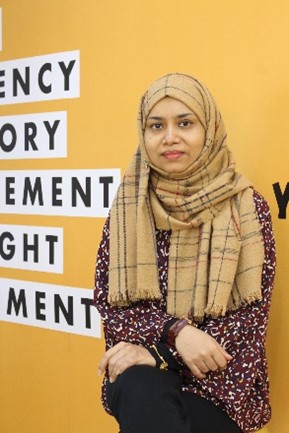 Associate Professor Dr Farzana Quoquab is a research expert in green and sustainability marketing. She holds a DBA from Universiti Kebangsaan Malaysia (UKM). For more information about her research and publications, visit https://business.utm.my/farzana_intro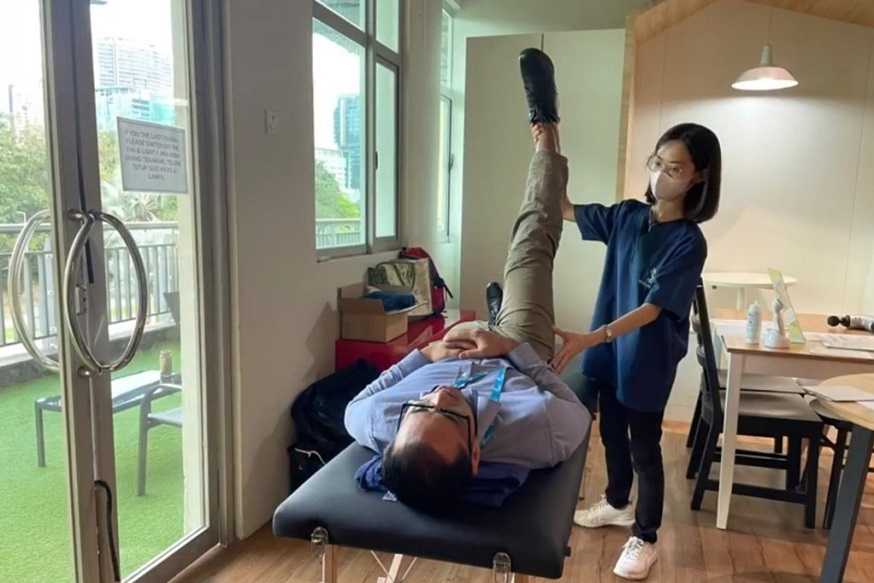 On-site Physiotherapy Services for Workplace Injuries
Physiotherapy treatment is required to be provided directly at workplace, to offer employees an easy and direct access to clinical expertise when they suffer from MSK injuries. This allows for early intervention and prevention of potential complications, shorten the recovery time and return to work in shorter time. Physiotherapists apply evidence-based approaches for pain management, including electrotherapy, thermotherapy, manual therapy, soft tissue therapy, joint mobilization, dry needling and etc. Besides, they provide education to injured employees on self-management technique during initial stage of injury for acute pain management to ensure employee recovered on time.
At post-injury recovery stage, physiotherapists provide assistance for employee to return to work by modified duty recommendations, prescribed assistive devices, sport taping or orthosis. They also facilitate communication between medical professionals, managers and the injured workers to create a supportive and practical pathway for returning to work at right time. They offer continuous care and support to return-to-work employees to ensure they are able to perform their job smoothly at work and reinforce re-injury prevention strategy.
One of the benefits of onsite physiotherapy service is reduced cost because it can reduce the number of off-site clinic visits and less time away from work. Onsite physiotherapy service provides high level of convenience for employee as appointment can be arranged around the employee working schedule, less stress about trying to book an appointment outside of work hours and less time spent getting to and from an appointment. This also improves the treatment adherence and results in better treatment outcome. Despite the numbers of benefits, onsite physiotherapy requires a low set up costs as the essential requirements are a private room and a treatment couch which do not require huge amount of space and fund.
Employee Engagement and Education
Regular physiotherapy health and wellness programs such as monthly fitness workshop, healthcare talk, wellness seminar and educational session can be introduced to improve the individual's overall well-being. In such ways, physiotherapists will be able to educate employees on injury prevention, postural awareness, and workplace exercises to maintain the optimal health. On the job training can be provided to employees on energy saving technique according to the nature of job to reduce muscle fatigue, muscle strain and most importantly it can reduce the prevalence of injuries in workplace. It is also advisable to empower employees with proactive exercise programs to actively engage them in management of their own health. It can eventually reduce the risk of developing complicated condition due to sedentary lifestyle, such as overweight, obesity, diabetes, hypertension, hyperlipidaemia and etc.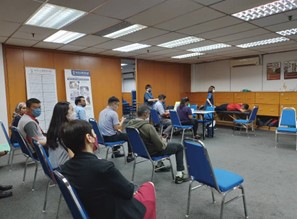 In a nutshell, the initiative to implement workplace physiotherapy service creates positive company culture and image which is crucial to business success. Preventative actions to maintain the safety and protection of the health of employees is essential for organization's long run success. In this process, employees acquire new knowledge to adopt healthy lifestyle and habits. This approach improves employees' job satisfaction, which turns to be a good motivator to boost their work performance which it makes it easier for the top management to retain their talented employees.